If you or someone you know is struggling or is in crisis, help is available. Please call 988 or chat online at 988lifeline.org
---
---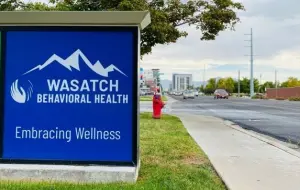 Center Wide Highlights
Despite the pandemic and associated challenges with healthcare delivery, WBH has been able to expand services. Early in the year, we opened a Receiving Center allowing us to assess and triage individuals who pre-sent with behavioral health crisis on a 24/7 basis. To complement this crisis triage center, we are in the process of re-purposing our Intensive Residential Treatment facility, located adjacent to the Receiving Center, as a 16 bed Crisis Stabilization Unit. This necessitated the relocation of our Intensive Residential Treatment facility to a new location. The Expansion of our existing Recovery Outreach Center to serve as a state of the art modern Receiving Center facility is near its completion.
In collaboration with Summit County, we developed a Mobile Crisis Out-reach Team serving both Summit and Wasatch counties.
Our Substance Use Disorder services expanded services by contracting with Recovery Residences, complementing the array of recovery services.
Our Foothill Residential facility will receive a modernized kitchen and expansion of capacity, in large parts thanks to a generous donor.
Our Promise program, serving mothers with younger children who are in recovery, was relocated to a central location in Orem. We purchased a building and remodeled it to fit the unique program needs.
The UA Lab obtained certification from the Clinical Laboratory Improvement Amendment (CLIA). Meeting CLIA standards and achieving certification is a highest certification a UA lab can obtain.
Collaboration with state partners will enable us to open a second Youth Receiving Center (Vantage Point) in American Fork. This will greatly enhance access for families and allied agencies and increase capacity for this much needed service in our community.
More recently, we piloted "Therapy Connect" a fully integrated telehealth platform allowing us to offer therapy on demand. Plans are underway to expand the functionality of this platform to allow for the completion of all client registration and scheduling functions through this portal.
Despite the ongoing challenges in service delivery posed by the ongoing COVID-19 pandemic, WBH increased the number of clients served. Where we provided services to 10,910 clients last year, this number increased to 13,517 this year. This 24% increase marks the 18th consecutive year of growth!
---
Click Here to Read Full Annual Report
About Wasatch Behavioral Health
Wasatch Behavioral Health (WBH) was founded in 1967 to provide quality mental health care for all individuals within Utah and Wasatch counties. WBH is a comprehensive behavioral health center. We offer an array of programs and services for adults, teens and children.
---
All WBH staff complete annual training in cultural competency.
WBH buildings are accessible to those with physical disabilities.
Access to interpreter services for all languages, including American Sign Language, are available to Medicaid clients.
Medicaid enrollees are able to obtain hard copies of the Medicaid Handbook - Notice of Privacy Practices and other forms without charge. These will be provided within 5 business days.
---
For Assistance:
Call 801-373-4760 or 1-866-366-7987
---
Please email comments, suggestions, or any suspicion of fraud, waste and abuse by clicking on the button above. Reported instances will be kept confidential.
---
---
If you have an emergency, DO NOT leave a message in the comment box. Instead, please call 911 or for mental health emergencies, please call the Utah State Crisis Line at 800 - 273 - TALK (8255) --- This Crisis Line is available 24 hours per day - 7 days a week
---