Suicide & Crisis Lifeline
If you or someone you know is struggling or is in crisis, help is available.
Please call 988 or chat online at 988lifeline.org

---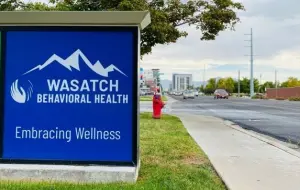 Center Wide Highlights
Opened a 16 recliner No-Refusal Receiving Center open to all residents where behavioral health emergencies are assessed and triaged
Completed close to 700 Mobile-Crisis Outreach Team (MCOT) responses in UT County
Completed close to 300 MCOT outreaches in Summit/Wasatch Counties
Opened Center for Opiate Recovery (COR) treating clients with opiate addiction
Continued strong partnerships with Provo and Utah Housing Authority
Placed 6 very difficult to place individuals in permanent housing
The Health Services Psychology Internship Program regained APA accreditation
100% of Aspire clients completed the program with significant improvements
53 individuals at Clubhouse obtained and maintained employment
Purchased new building to house Substance Use Disorder (SUD) programs
Implemented innovative Loan Repayment Program to retain and develop workforce
Increased benefits and benefit options for staff to retain and recruit qualified staff
Collaborated with Runtastic to host annual Mental Health Awareness Race in conjunction with Mt. Nebo Marathon
Significantly expanded School Based Services necessitating development of separate program
Provided 923 CY FAST (youth crisis team) outreach efforts
Achieved agency wide goal to improve SMART objective documentation
Implemented electronic client registration process
Implemented Therapy Connect, an on-demand virtual therapy platform
Expanded Stride classroom in Lehi
Migrated to an electronic AP system that streamlined the payment processes
Expanded Youth Behavioral Health Court
Started the expansion of Foothill Residential to include a commercial kitchen and to add 12 beds increasing the capacity to 34
Increased our contracted provider network by over 70% to increase access to care
Strengthened collaboration between Vantage Point and SUD teams to increase SUD services to youth
Opened Vantage Point North Youth Receiving Center in American Fork
Received Insurance Trust Accountability Award
WATCH (our homeless outreach program) housed over 50 chronically homeless individuals
The Women in Leadership Group started a mentorship program for staff development
---
Click Here to Read Full Annual Report
About Wasatch Behavioral Health
Wasatch Behavioral Health (WBH) was founded in 1967 to provide quality mental health care for all individuals within Utah and Wasatch counties. WBH is a comprehensive behavioral health center. We offer an array of programs and services for adults, teens and children.
---
All WBH staff complete annual training in cultural competency.
WBH buildings are accessible to those with physical disabilities.
Access to interpreter services for all languages, including American Sign Language, are available to Medicaid clients.
Medicaid enrollees are able to obtain hard copies of the Medicaid Handbook - Notice of Privacy Practices and other forms without charge. These will be provided within 5 business days.
---
For Assistance:
Call 801-373-4760 or 1-866-366-7987
---
Please email comments, suggestions, or any suspicion of fraud, waste and abuse by clicking on the button above. Reported instances will be kept confidential.
---
---
If you have an emergency, DO NOT leave a message in the comment box. Instead, please call 911 or for mental health emergencies, please call the Utah State Crisis Line at 800 - 273 - TALK (8255) --- This Crisis Line is available 24 hours per day - 7 days a week
---