Are You Experiencing a Mental Health Crisis Right Now?
Individuals, with or without Medicaid, experiencing a mental health crisis may access Crisis Services by: 
Calling the Suicide & Crisis Lifeline at 9-8-8.Family members or friends may also call the Crisis Line if they are concerned about an individual and unsure of what to do or where to go for help.

Going to the Receiving Center for support and crisis behavioral health care. Open 24 hours a day. 1175 E 300 North in Provo (on our Parkview Campus).


Going to the nearest hospital emergency room for evaluation.
If you or someone you know needs support now, call or text 988 or chat online at 988lifeline.org . 988 Suicide & Crisis Lifeline connects you with a trained crisis counselor who can help.
Receiving Center & Recovery Outreach Center
The WBH Receiving Center provides crisis mental health services to all age groups in Utah and Wasatch Counties. Our goal is to provide immediate access to mental health evaluations and consultations to the people in our community.
We partner closely with local law enforcement and can provide Mobile Crisis Outreach (MCOT) services when needed.
The Receiving Center and the ROC are staffed with master-level therapists and peer support specialists round the clock who are trained to respond to suicide and other crisis mental health issues.
Adults may stay at the WBH Receiving Center for up to 24 hours while youth may be referred to Vantage Point (when appropriate) master-level
Open 24 Hours 
7 Days per Week 
1175 East 300 North
Provo, UT 84606
Vantage Point & Vantage Point North
Vantage Point provides 24-hour-a-day, 7-days-a-week crisis residential services for male and female youth ages 10-17 who are at risk of becoming runaways (or are runaways) or experiencing serious parent-child conflicts at home.
Open 24 Hours 
7 Days per Week 
Provo Location: 
(801) 373 – 2215
American Fork Location – Vantage Point North:
(385) 268 – 5090 
Provo Location – Vantage Point: 
1189 East 300 North
Provo, UT 84606
American Fork Location – Vantage Point North:
947 North 880 East
American Fork, UT 84003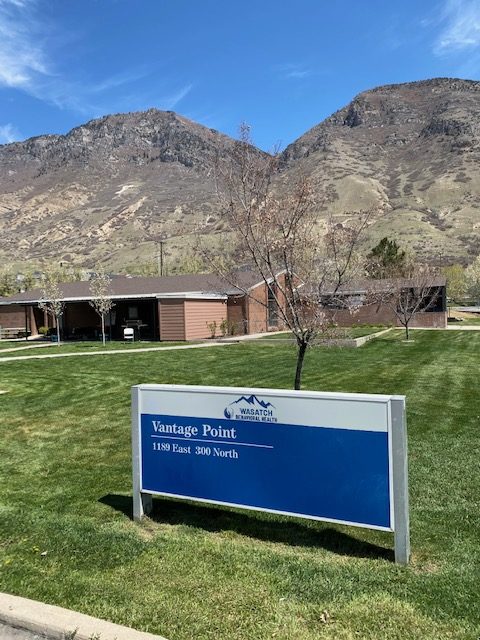 Mobile Crisis Outreach Teams provide support to individuals and families in the community, at times partnering and responding with law enforcement. Where possible crisis mental health services are facilitated at the Recovery Outreach Center, but there are occasions where emergent mental health services need to be provided to community members in their home or place of crisis. Regardless of a person's insurance, mobile mental health services can be provided. Please talk with our crisis line staff to inquire further about this resource for you, a loved one or someone you may be concerned about.
Inpatient services are provided to Medicaid clients in Utah County by contracts with several local hospitals: Utah Valley Regional Medical Center (Provo), Provo Canyon Behavioral Hospital (Orem), and Mountainview Hospital (Payson).
IRT is a residential care/treatment program to help adults with chronic mental illness by providing resources, services, and opportunities as an alternative to psychiatric hospitalization. IRT is a 16 bed residential facility serving both men and women. IRT is staffed with 24-hour, 7-days a week personnel including a nurse. Services provided include: assessment, individual therapy, group therapy, skills development, case management, day treatment, and medication management. A psychiatrist makes rounds bi-weekly and is available on-call, 24-hours a day. At this time, IRT admissions must be initiated following a crisis evaluation. Call (801) 852-3320 for more information.
The Utah State Hospital operates under the direction of the Utah Department of Human Services and provides longer term care and more intensive treatment for individuals. Referrals to the Utah State Hospital are made by Wasatch Behavioral Health (or other local community mental health centers in Utah) or by a Utah State District Court Judge (for forensic units). Wasatch Behavioral Health provides a staff liaison to both the Adult and Child/Youth programs to monitor progress and assist with discharge planning and follow up care. Both Utah and Wasatch counties are allocated a limited number of USH beds according to population census.