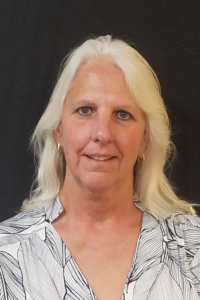 Sue Leavitt, LCSW. Program Manager. Substance Use Disorders. Sue Leavitt has worked for Wasatch Behavioral Health since 1989, working in various levels of care from Skills Development to Crisis Services. Sue completed her Bachelor's degree at the University of Utah and her Master's degree in Social Work at the University of New England . Over her years of experience, Sue has had the privilege of working with many individuals who suffered from a broad spectrum of personal issues, including mental health disorders and substance use disorders. She has vast experience counseling clients with depression, anxiety, post-traumatic stress disorder,and substance abuse.
Her background enables her to be an extremely effective social worker who is comfortable counseling diverse populations.
Karen Amsden, LCSW is currently the IRT Therapist Supervisor. She has worked over half her life as an employee of WBH, first as an HSW, then an SSW, a CSW, and now an LCSW! She currently supervises IRT which is the very first place she worked when she was fresh out of BYU armed with a degree in psychology. She enjoys working with the SPMI population.
Karen loves animals and can frequently be found rescuing earthworms from the sidewalks during rainstorms.