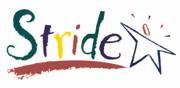 Stride is an after school day treatment program to assist children ages 5-12 experiencing challenges with behavior and social skills due to a mental illness.
Mission Statement
The mission of the Stride Program, in cooperation with the parents and teachers, is to provide quality learning of social skills by:
*     Equipping children with the basic social skills of life,
*     Heightening awareness of the consequences of chosen actions, and
*     Ensuring a positive environment where children feel accepted, confident, and successful.
---
General Description
The Stride program is designed to assist elementary school-age children who are experiencing social skill deficiencies due to mental illness and emotional challenges.  The goal of the program is to provide a positive environment where children can feel accepted, confident, and successful while at the same time gain social skills in areas such as anger management, compliance, honesty, and getting along with others.
Each day at Stride, the children have a lesson on a specific social skills topic, time to work on homework from school, activity time, relaxation time, and snack time.  Group therapy is provided once a week during the school year and daily during the summer.  Each day the children bring a report on their behavior from school and home using a tracking sheet.  This enables the school and parent (or guardian) to be involved in the program.
Stride is a 13-week program.  During the school year, the program hours are 3:00 pm until 5:30 pm Monday – Friday.  Summer program hours are from 10:00 am until 3:00 pm Monday – Thursday.
The children's parents or guardians are required to attend a monthly parent educational group.  Topics for the parent group include understanding children, positive reinforcement, discipline, and communicating with children.
Parents are encouraged to transport their children.  When this is not possible, the program does help with transportation.
Our mental health services are voluntary and parental or legal guardian consent is required prior to formally initiating a referral.